Deliver Profitable, Lifestyle-Friendly Retreats, Seminars & Events
(Whether Live In Person or Virtual!)
Get Your Roadmap Here!!
We promise never to sell your email or send you spam.
The Roadmap Includes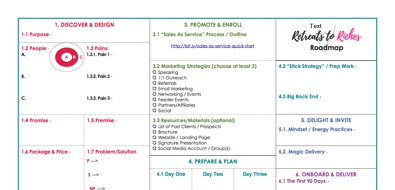 1-Page Roadmap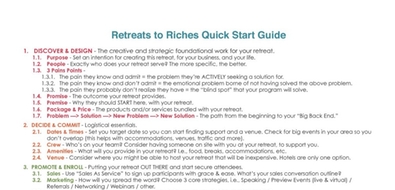 Retreats to Riches Quickstart Guide
Michelle's "Retreats to Riches" Story
Hi! I'm Michelle Villalobos, business strategist, creative thinker, former magazine editor-turned-publisher, MBA, business mentor and coach, professional speaker and recovering overachiever, lol. Phew!
I've been in business 13 years, and for the first 7 (yes 7!) I struggled, BIG TIME. I was a marketing consultant, and on top of being providing not-very-meaningful services that I mostly disliked, my revenues were up and down like a roller coaster (some months with a big fat ZERO in my top line), and, to make matters worse, between hustling to land clients and hustling to deliver (mostly in person) to clients, I was exhausted and felt trapped.
Then 6 years ago, thanks to‍‍‍ a major breakdown in my personal life, I had a major breakthrough in my business (amazing how that works, right?) During my healing process, I started working with a mentor who helped me reorient my business towards my higher purpose, and then shift my business model to be more scalable. He helped me transition to stop working 1:1 and start leveraging my time using small events, retreats, and an ongoing, back end membership program that generates monthly recurring revenues.
Not only did my business quadruple seemingly overnight (14 months, to be exact, but after 7 years it FELT like overnight!), but I also had more FREEDOM and FUN than ever before. In fact, 4 months into this "experiment," I embarked on a nomadic lifestyle.
Crazy, right? What I learned is that the right business model (more on that below) changes everything – it creates stability, leverage, freedom, and most importantly, IMPACT.
And now I get to help other passionate, p‍‍‍urpose-driven Superstars (like you!) build their own lifestyle-friendly, impact-driven retreat-driven businesses. I believe I learned my lessons the hard way so you don't have to.
Copyright © Mivista Consulting, Inc. 2018. All Rights Reserved.